Whooping cough cases prompt vaccine reminder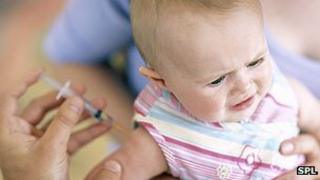 Northern Ireland's Public Health Agency is reminding parents about immunising children after an outbreak of whooping cough in England and Wales.
Cases of the diseases in England and Wales have more than doubled in the past year, affecting teenagers and adults in particular.
There has been no rise in whooping cough cases in NI and 17 cases were reported in 2011.
However, the PHA said there was no room for complacency.
"Northern Ireland has uptake rates of over 98% for the primary vaccines by two years of age, which is an excellent achievement, but I would urge the small remainder of parents whose children have not received full protection against these serious diseases, to do so," said consultant in health protection Dr Richard Smithson.
"Whooping cough is a highly infectious disease so it can spread quickly amongst people who have not been vaccinated.
"I would urge those few parents whose children aren't fully vaccinated to ensure that they get all the recommended vaccines as soon as possible. It is never too late to get the vaccines, just speak to your GP or health visitor to arrange it."
Dr Smithson also said that children are offered a whooping cough vaccine at two, three and four months of age as part of the routine childhood vaccination programme, and that they should receive a further booster prior to starting primary school.
He said that children who receive all the necessary doses will build up and keep high levels of immunity to the disease.
Symptoms
Whooping cough, also known as pertussis, can be a serious illness, especially in the very young.
The main symptoms are severe coughing fits which, in babies and children, are accompanied by the characteristic "whoop" sound as the child gasps for breath after coughing.
Very young children have the highest risk of severe complications and death.
Whooping cough in older people can be an unpleasant illness, but does not usually lead to serious complications.
The infection can be treated with a course of antibiotics to prevent the infection spreading further but young infants may need hospital care due to the risk of severe complications.