Newspaper review: NI and Republic of Ireland stories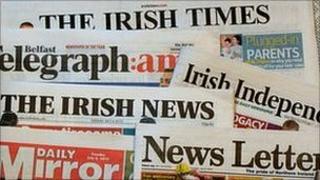 Journalist Liz Kennedy takes a look at Friday's papers.
There is a claim from dissidents phoned through to the Belfast Telegraph on Thursday night - that they had targeted a serving soldier with a booby-trap bomb in north Belfast.
Oglaigh na hEireann said they had put a device under a car seat. A controlled explosion was carried out on the vehicle in Ligoniel.
The Daily Mirror leads with the story of former Miss Great Britain Gemma Garrett.
The Northern Ireland woman says that she had to pay £11,000 to get a faulty breast implant removed and that she now wants to campaign for women, who cannot afford to get their implants removed.
She says she was only 26 years old when she had the initial operation and that some girls of 18 are making that decision.
The News Letter leads with what they term the "U-turn" done by SDLP leader Alasdair McDonnell over the current salary paid to MLAs, or what the paper says he called a "starvation wage" of £43,000.
Dr McDonnell has now apologised for "causing offence".
The Daily Express leads with new research which shows that dementia can begin at the age of 45, some 15 years earlier than previously thought.
It also points out that "a healthy heart" is the key to fighting off the ravages of crippling brain condition.
Diane Abbott's comments on a social network site still reverberate in many of the papers.
"Not racist but wrong", says the Daily Mirror about her tweet that "white people love playing divide and rule".
The Guardian asks if it was "a storm in a tweet cup"?
And there are beautiful photographs of Marilyn Monroe everywhere, with the death of legendary photo-journalist Eve Arnold.
Eve was the first woman to join the Magnum photographic agency and she has died at the age of 99.
She was a mistress of her trade whether documenting migrant workers or photographing celebrities.
On a lighter note, The Daily Telegraph has some curious listings of ailments from the 1911 census.
One house holder described his children as "quarrelsome", "stubborn" "vain", "greedy" and "noisy".
He said his wife had "a long tongue" but he also said that he himself was "bad-tempered".
Another very honest respondent described himself as "bald" and "toothless."