Vita Cortex warns that staff sit-in could result in job losses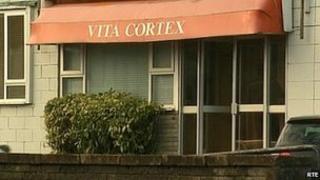 The foam manufacturer firm, Vita Cortex is warning that an ongoing sit-in by former employees in Cork could result in further job losses.
The group employs 28 people in Belfast with a further 32 people employed at locations in Cork and Athlone.
Vita Cortex closed its plant on Kinsale Road in Cork on 16 December.
Thirty-two workers at the company have been holding a sit-in at the company after they were told they would not be receiving any redundancy payments.
In a statement the company said "ongoing negative publicity" of the sit-in was undermining management's efforts to "maintain the existing levels of business and the employment needed to service it, which is heading to further potential job losses in the very near future".
"We restructured the group, resulting in the closure of the loss-making division at Vita Cortex Cork, in order to save the group as a going concern and protect the 60-plus jobs which remain," it said.
"We are fearful that the company and its remaining workforce may now become the victims of misperception and misinformation resulting in a basic failure to accept the reality of the company's financial situation."