Day to re-Joyce as The Dead dine out in Dublin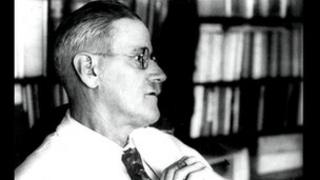 Dublin's most famous son is inviting dozens of people to dinner on Friday.
Well, not exactly, but they have invited themselves and are organising events to commemorate one of his most critically acclaimed works.
That's because it's 6 January. The date specifically chosen by James Joyce for the setting of The Dead, the final part of his exceptional series of short stories, Dubliners.
The 15 short stories, first published in 1914, centred on middle-class Dublin in the early years of the 20th century.
They revolved around Joyce's idea of a series of characters experiencing an epiphany - a sudden realisation of themselves and their lives.
And that's why the final and longest story of the volume is set on 6 January, the date of the Feast of the Epiphany - the celebration of the realisation that Christ is the son of God.
The Dead is set at a dinner party in Dublin city centre. Gabriel Conroy and his wife Gretta attend a lavish meal at the home of the Morkan sisters.
He experiences an epiphany about life and death as he hears his wife talk about her long lost first love.
In 1987 it was made as a film by oscar-winning director John Huston, starring his daughter Angelica Huston and Donal McCann.
The meal in the story is being recreated at the Gresham Hotel, itself mentioned in The Dead, with the exact same menu and guests expected to wear period costume.
Last year 50 people attended a similar event but on Friday night 150 are expected for the sold out dinner.
They will be dining on, amongst other dishes, spiced beef, Smyrna figs and hot floury potatoes.
The celebrations are not on the same scale as the annual festival Bloomsday on 16 June which remember the entirety of Joyce's literary works.
These include Ulysses, his most famous work, published in 1922. It includes mentions of several characters from The Dead, including the two main protagonists, Gabriel and Gretta Conroy.
Bloomsday is celebrated in Dublin and events have also been organised in Hungary, Italy, Australian and the United States.