Police Ombudsman Al Hutchinson to delegate responsibilities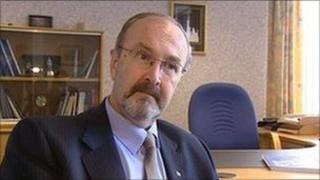 Al Hutchinson will move closer to stepping down as police ombudsman next week by delegating his responsibilities to a new interim chief executive.
The move will mean he will cease to function as ombudsman at the end of this month, but he will not formally retire until the end of February.
An interim chief executive is expected to be appointed by the ombudsman next week.
It is expected to be someone not currently working for the ombudsman.
They will take over Mr Hutchinson's responsibilities at the end of this month.
That means Mr Hutchinson will cease to operate as police ombudsman on 31 January.
The Department of Justice said he would not retire until the end of February to ensure an orderly transition, and because of outstanding leave.
Responsibility for appointing a successor lies with the first and deputy first ministers, and the new ombudsman is not expected to be in place until the summer.
Mr Hutchinson announced his intention to quit as police ombudsman at the end of this month following a BBC Spotlight programme which identified significant failings in the work of his office.
The ombudsman will meet Justice Minister David Ford next week to discuss the handover of his responsibilities, and to ensure the necessary arrangements are in place for the office to function until a successor is appointed.
A spokesman for the Department of Justice said Mr Hutchinson would not receive any additional payment as compensation for leaving office earlier than originally planned.