Irish developer Ray Grehan in UK bankruptcy move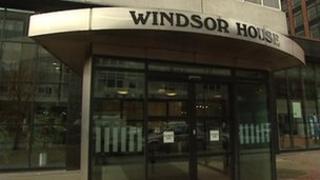 A leading Irish property developer who is being pursued over a 300m euro debt has been declared bankrupt in England.
Ray Grehan's businesses were placed into receivership by the Irish government's National Asset Management Agency (Nama) in April.
He was declared bankrupt in London on 30 December according to details on the UK Insolvency Service website.
UK bankruptcy is much less onerous in the Irish Republic - a UK bankruptcy typically last for a year whereas in Ireland it is typically 12 years.
Mr Grehan's address is given as a flat at Bateman's Row in Shoreditch, east London.
The bankruptcy notice adds that he had previously been "residing at Crinstown, Maynooth, County Kildare, Ireland".
Mr Grehan's main business was Glenkerrin Homes which he ran with his brother Danny.
Its developments included the the Grange apartment complex in Dublin and it owned a half share of the Windsor House office block in Belfast.
In November, Nama obtained a court order in Dublin meaning that Ray Grehan would have to pay it 312m euro.
A month later the agency obtained an order in the High Court in London to prevent developer Mr Grehan disposing of any assets worldwide.
It also obtained an injunction in Canada to prevent the sale by Mr Grehan of a luxury apartment in Toronto.
Nama was set up by the Irish government in an attempt to save the country's ailing banking system.
It bought property loans from the banks and is now managing these loans in an attempt to recoup billions of euro.