Construction company Patton Group loses more than £10m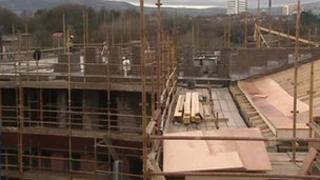 One of Northern Ireland's largest construction firms has reported an annual pre-tax loss of more than £10m.
The details are contained in the 2010 accounts of the Ballymena-based Patton Group.
Most of the losses relate to one-off factors including a debt which cannot be recovered from one of the firm's clients.
The firm's directors said it had been a "challenging year" in a difficult trading environment.
Turnover fell 12% from £185m to £163m while an operating profit of £3.2m in 2009 was reduced to £1.9m in 2010.
However, that was wiped out by one-off factors.
These were a £4.7m write-down in the value of the firm's development land and £1.2m lost when a developer client, Corner Blok, was placed into administration.
A further £5m loss was attributable to the closure of Peppiatt Contracts, an English-based subsidiary, which ceased trading due to ongoing losses.
The directors' report said the fall in turnover had taken place mainly in the fit-out division which reflected the reduction in capital expenditure in the retail sector in 2010.
Patton is a major house builder, particularly in the Ballymena area, and the directors said they had made a "significant reduction" to the selling price of homes to reflect what has been happening in the Northern Ireland housing market.
However, the directors said that the rate of house price fall "has slowed significantly" and it could be anticipated that the market would now stabilise.
They also said that profit margins had held up in the construction and fit-out divisions which they described as "very encouraging".
Looking forward, they said that the order book is strong with significant business booked in construction and fit-out across the British Isles.
They added that the early part of 2011 had also seen an improvement in house sales compared to the same period in 2010.
The directors also said that it was worth noting that the firm's debt has fallen from a high of £53m in November 2008 to £41m at November 2010. The firm also has accumulated profits of £20m.
Over the year the number of staff fell from 511 to 494, reducing staff costs from £19.4m to £18.5m. The highest paid director got £130,000, unchanged from the previous year.