Alex Attwood launches new planning complaints process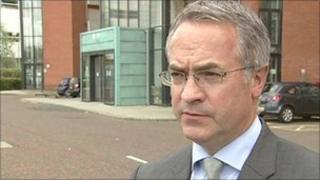 A new streamlined planning complaints procedure will be launched on Monday by Environment Minister Alex Attwood.
It aims to make the method of complaining "easier and more user friendly".
The main change is to reduce the number of steps involved from three to two.
Mr Attwood said the integration of planning into the Department of Environment had provided an opportunity to introduce the system.
"I am glad to say that most planning related complaints can be dealt with in an informal way over the telephone and it is possible to resolve many issues by this method," he said.
"The new procedure I am introducing is intended to manage more formal complaints which would normally be made in writing to the relevant planning officer.
"The main change is to reduce the number of steps from three to two, the first stage handled by the appropriate area planning manager and the second at director level; this will short-circuit the process and lead to speedier resolutions.
"Any complainant who still remains dissatisfied can ask an MLA to take the complaint to the Assembly Ombudsman."