Route taken by missing cyclist Samuel Campbell revisited by police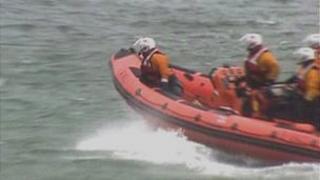 Police officers have revisited the route taken by missing cyclist Samuel Campbell in County Antrim, a week after his disappearance.
Mr Campbell, 49, set out for a bicycle ride from his Kells home last Sunday afternoon but did not return.
On Tuesday night, his bicycle was found a mile outside Glenarm.
PSNI Detective Inspector Bob Blemmings said on Sunday that the cyclist's disappearance was still a mystery.
"From the very beginning we have been looking at several options," he added.
"Sam may have taken an illness, he may have been involved in an accident, he may be voluntarily missing.
"So with the family we are trying to go down all those avenues and discover exactly what occurred."
A police officer rode the bicycle through Glenarm and Broughshane on Sunday in a bid to jog people's memories.
Searches continued along the Glenarm to Carnlough coastline involving air, land and sea resources.
This followed similar searches over the past week.
Mr Campbell was last seen wearing a red top with the symbol TCG, black cycling leggings and cycle glasses.
Police are appealing for anyone who was cycling in the area and wearing similar clothing to Mr Campbell around the time of his disappearance, to contact them so they can be eliminated from their inquiry.