'Rail' progress: mobile phone app puts paid to queuing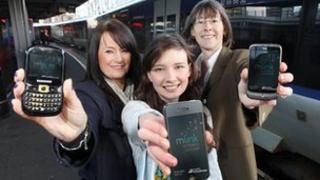 Say goodbye to paper tickets - Translink has introduced a new way of sorting your fare... by flashing your mobile phone.
mLink is a new app which allows you to buy your train ticket and display it on your mobile phone screen for ticket officers to check.
"You avoid the queues, you avoid having to get your money together and you also get great savings on the railway network," said Translink group executive Catherine Mason.
Commuters can already pay for parking tickets using their mobile phone, so buying a train ticket is another logical step.
mLink tickets can be bought and displayed using most standard mobiles as well as iPhone, BlackBerry and Android handsets.
Customers can text mLink to 82500 and download the app.
"Tickets, purchased via the customer's credit or debit card through a free to download app, can be bought up to three days in advance and can be stored and activated on the phone," said Ms Mason.
"The tickets are displayed as a 'flash pass' ticket with no electronic reading required. A visual check of the mobile phone screen by NI Railways employees at the ticket barrier or on-board the train is all that is needed."
By buying a monthly train ticket, customers can save more than £30 a month.
Translink is also offering an extra 10% discount for mLink weekly and monthly customers from 9 January to 29 February.