Royal warrant for Irvinestown's Lakeland Computers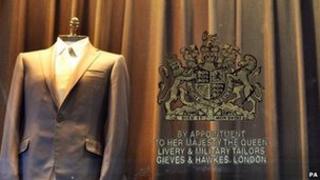 A firm from Northern Ireland have just been awarded a royal warrant.
That's the little mark on the side of things like Tate and Lyle and Tiptree Jam which shows the company has been supplying the Queen's Household for more than five years.
Lakeland Computers, based in Irvinestown in County Fermanagh, make software systems for specialist food stores and one such system runs the farm shop at Windsor.
The software is designed to help firms keep track of their stock and turnover.
The firm also run the systems at the Duke and Duchess of Devonshire's estate at Chatsworth in Derbyshire, Harvey Nichols food hall in Knightsbridge, and smaller family-run businesses in Northern Ireland.
The warrant has been granted to the company director Nigel Bogle, and is a mark of recognition of the company's working for the royal household.
Mr Bogle said "to have that kind of independent recognition of what we do will serve us well moving forward".
Warrants are applied for by companies, who are then put through a rigorous process testing their business and environmental credentials.
There are only a handful of companies in Northern Ireland who currently hold one.
Allan McCaw and Co who make bed linen, and Ulster Weavers Home Fashion who make kitchen textiles, also have royal warrants.
Hear the full story on the NI Business News Podcast (http://www.bbc.co.uk/podcasts/series/nibusiness)