Does mild weather herald first signs of spring?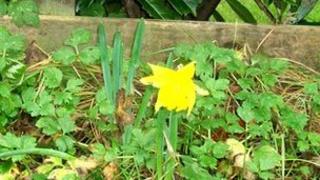 With some temperatures for January getting into double figures and as we throw off our hats, scarves and gloves on many of those days - we could be forgiven for thinking spring has sprung.
But we are still officially in winter. Spring does not start until March.
Six degrees Celsius is the average temperature for this time of year. But on Sunday, a temperature of 12 degrees was recorded at Murlough Bay in County Down.
The highest temperature by lunchtime on Monday was 10 degrees.
BBC NI weather presenter Barra Best said: "The temperatures we saw yesterday are more normal for about the end of April, or for mid-October. We usually start to go into double figures from the beginning of April onwards."
So is this unseasonably mild weather producing the first visible signs of spring?
Avril Milligan, the head gardener at Rowallane Gardens in Saintfield, County Down, said snowdrops had appeared "astoundingly early this year".
"Bulbs are always hard to predict. It's the ground temperature which affects growth and overhanging hedges provide a natural duvet," she said.
"But we have snow drops which have been showing colour since the middle of December, because it's been mild. The daffodils are raring to go too.
"We would need a prolonged period of frost to knock those temperatures back. We also have signs of bud growth in the rhododendron in sheltered locations."
However, even the plants are cautious this year following the deep freeze of last winter.
And plants can get quite stressed with extreme weather conditions.
"Because there's a little bit of sunlight today - from the plants' point of view they can get quite confused and very exhausted. Cold snaps can put them back into a dormant state. Cold snaps of -3 for three or four days are, though, are very acceptable. It gives them a rest. It's nature and can kill pests and disease."
The former Chairman of the Northern Ireland Biodiversity Group, Dr Bob Brown, said the mild spell has livened up bees and flies.
In fact, he was actually stung by a bee last week, at a time when such creatures are normally in hibernation.
"That means when there's no food around over the winter months they save energy. So when the warm spring days come up, the early spring flowers come, they come out and get nectar.
"When you've had a very very mild spell like we've had, they are all perked into activity. They are flying around to find food, and, of course, there isn't really very much around.
"This actually does pose quite a threat to a lot of them. Some of them may burn up so much energy that when the real spring comes, they cannot muster the activity to get out and about."
So with climate change can we expect to see more of the mild temperatures? And what of the wildlife?
Some forecasters predict more stormy periods, milder winters and damp summers as well as a temperature change.
Dr Brown said: "The long term change - this increase in temperature of one or two degree - could allow other species to shift north wards.
"We are seeing butterfly species throughout the British Isles shift north wards. There's really quite a potential for a long term shift in species, but a shift in the growing season as well - so that the breeding season for birds could become longer."