Car sales figures drop most in Northern Ireland - SMMT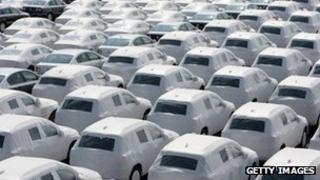 A regional breakdown of new car registrations has shown that sales in Northern Ireland fell by 11.7% in 2011 to 47,229 vehicles.
The rate of decline is more than double for the UK as a whole, which fell by 4.4% last year.
The figures have been released by the Society of Motor Manufacturers and Traders (SMMT).
Sales in Wales fell by 9.9%, in Scotland by 4.9% while in England sales were down 3.9%.
At the end of October, Department of Regional Development figures showed that in the second quarter of 2011, just over 12,100 new cars were registered in Northern Ireland.
That was a fall of 13% on the same period in 2010 and a drop of about 27% on the previous quarter.
The fall was blamed on a combination of high fuel prices, falling disposable incomes and low consumer confidence.
Meanwhile, In the Republic of Ireland new car registrations rose 1.6% in 2011 to reach 89,900, according to figures from the Society of the Irish Motor Industry (SIMI).