Primary schools share teacher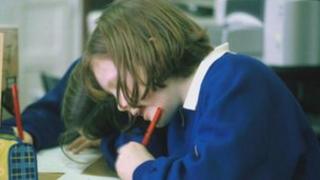 Two County Londonderry primary schools have jointly appointed a teacher in a cross-community project.
Knocknagin, a catholic primary, and Desertmartin, a protestant primary, jointly employ a teacher to cover two subjects.
The two schools have 65 pupils between them and are less that a mile apart.
The North Eastern Education and Library Board said it was the first time a primary school has co-operated across religious groups in this way.
The employment of the teacher is funded by the Atlantic Philanthropies charity and the International fund for Ireland.
The schools have already been sharing classes and the principals said parents fully support the move which would not have been affordable otherwise.
The North Eastern Board has set up 27 cross-community partnerships, mostly among rural primaries.