UVF supergrass trial witness 'paid cash after statements'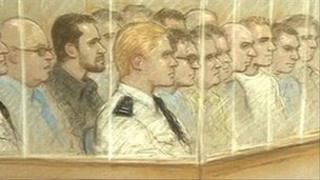 A witness at the UVF Supergrass trial in Belfast has claimed detectives from the Historical Enquiries Team (HET) twice paid him money after he made statements about some of the accused.
Keith Caskey, 41, received a severe beating in New Mossley.
It happened in January 1996.
He was designated a hostile witness by the trial judge, Mr Justice Gillen, because there were two distinct versions of his story.
In one version, which agrees with his statement to the HET, Mr Caskey said he was driven by three of the accused, Mark Haddock, Darren Moore and Alec Wood to New Mossley, expecting to receive a punishment beating for antisocial behaviour.
He claimed, in his evidence for the prosecution, that he also saw two others, David Smart and Philip Laffin.
He testified that he was taken to a nearby alleyway, his head covered with a pillow case, and he was then beaten by six men wielding baseball bats, pickaxe handles and hammers.
He received multiple injuries to his legs, arms and head and was in hospital for several weeks, and used a wheelchair for some time afterwards.
But when cross examined by defence barristers, Mr Caskey insisted that the HET had written the first statement for him and he had simply signed it.
He insisted he had no memory of the incident at all, and certainly could not remember the identity of any of his attackers.
He further alleged that an HET detective had given him £50 on two separate occasions.
The court heard that Mr Caskey had been an alcoholic and drug addict for several years, was still a heroin user, and that he had no confidence in his own memory.
He stated that he had no wish to give evidence and went as far as to tell the court "I'm not reliable here at all".
The trial began in early September 2011, and is expected to finish hearing evidence on Tuesday.
It is one of the biggest and most expensive criminal trials in Northern Irish legal history.
All of the 14 men accused deny all the charges against them.
Much of the trial has been taken up by the testimonies of Robert Stewart and his brother Ian. They have admitted UVF membership, and already served more than three years for their part in the murder of the UDA man Tommy English on Halloween night 2000.
Mr English was shot dead in front of his wife and children at his home on the Ballyduff estate at the height of a loyalist feud between the UVF and UDA.
Under legislation called the Serious Organised Crime and Police Act, the Stewarts have signed an agreement committing them to giving truthful evidence about the men in the dock.
In such cases, so-called "assisting offenders" can have their sentences reduced in return.
In the case of the Stewart brothers, both have avoided the prospect of a further 19 years in jail, providing they are seen to have kept the agreement.
They handed themselves in to police in August 2008, and underwent more than 330 police interviews in total, some of them at secret addresses outside Northern Ireland.