Stormont parties discuss executive departments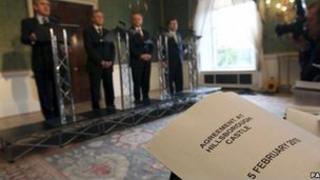 The future of the Department for Employment and Learning has been raised at multi-party discussions being held at Stormont Castle.
Although the talks have been called to deal with the future of the Department of Justice, cuts to the number of departments are also on the agenda.
Alliance leader David Ford was appointed justice minister following the 2010 Hillsborough Castle Agreement.
His appointment runs out at the end of April.
It is understood a number of options have been discussed.
Initial indications are that Mr Ford would stay on in the justice job.
However, the DUP have said they are too many government departments.
Scrapping the Department for Education and Learning was raised with Mr Ford by First Minister Peter Robinson.
Responsibility for universities would be given to the education minister, with job centres and other powers going to the enterprise department.
This would give more power to a Sinn Fein minister, John O'Dowd, and a DUP minister, Arlene Foster.
BBC Northern Ireland political correspondent Martina Purdy said: "The desire of Peter Robinson and martin McGuinness is not to have a crisis, and not to be sitting here in April concerned that the justice job is not going to be filled.
"Because if they can't get agreement the powers return to the secretary of state."
Mr Ford's appointment was a compromise to ensure justice powers could be transferred to Stormont from Westminster in April 2010.
Martina Purdy added: "The DUP and Sinn Fein forged a deal whereby both parties agreed neither would seek the justice ministry.
"They also agreed at Hillsborough Castle that the d'Hondt formula for appointing ministers applied under the Good Friday Agreement should be set aside.
"The result was that the SDLP lost out on a second ministry under d'Hondt and the Alliance Party was able to gain one.
"Alliance leader David Ford was elected justice minister on a cross-community assembly vote. With arrangements set to expire, parties must decide if they want to continue with the arrangements."
Earlier, Conal McDevitt of the SDLP, said: "What we want is what the people voted for in 1998, we are defending the voice of the people here.
"Fifty thousand people voted for Alliance and they have two seats (in the executive): 100,000 voted for my party and we have one seat.
"So they have twice as many executive members and only half of the votes. It is not about the parties, it is about the system, it is against the spirit of the agreement."
Ulster Unionist Roy Beggs said: "There is an issue about fairness and lack of proportionality - it is something that should be looked at.
"We are not looking out of narrow self interest but we want better, smaller, more efficient government."
Mr Beggs said Sinn Fein and the DUP had "created the problem" and it was up to them to solve it.