Paramedic found Constable Stephen Carroll 'motionless'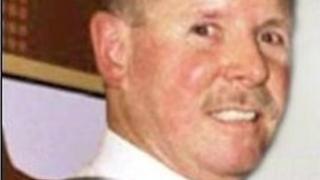 The paramedic who tried to resuscitate Constable Stephen Carroll has said he found the policeman "motionless in his car".
Former Sinn Fein councillor Brendan McConville, 40, and John Paul Wootton, 20, are on trial for the murder of the policeman in March 2009.
Both deny murder and possession of an AK47 assault rifle.
Members of the Carroll family wiped away tears as a statement from Phillip McFadden was read in court on Tuesday.
Constable Carroll, 48, was shot in the head in Craigavon after answering a 999 call.
At the time, dissident republicans, the Continuity IRA, claimed they were responsible for the shooting.
Mr McFadden, who had 11 years experience at the time of the shooting, described how he had arrived at the scene and found the murdered police officer with blood coming from near both his left and right ears.
He said it took eight minutes to get Constable Carroll to hospital and while there he removed the officer's gun which was still in its holster after he noticed it was getting in the way of the medics' work.
A police officer, who responded to the 999 call with Constable Carroll, told the court she was in the first car to arrive in the Lismore estate in Craigavon.
Constable Carroll was in a second car, along with two other officers.
She said it was dark, drizzly and not very well lit.
"I heard cracks and shouted to my colleagues to get in. I shouted: 'This is a set up'," she said.
She also told the Belfast court she heard someone shout from the other police car: "My driver is dead."
'Shock and disbelief'
Another officer, who was also in the first car, said he had been wary of going into the estate because it was close to an area thought to be a dissident republican stronghold.
After the two shots were fired he said he saw the two passengers in Constable Carroll's car outside the vehicle.
One of them was pointing his gun in different directions including at the two officers in the accompanying car as they approached.
The other was crouching beside the car.
The officer giving evidence was clearly distressed by what happened and he said there was "shock and disbelief".
He told the court: "A lot of things go through your head. Do you get out? Do you stay in? In the end I didn't do an awful lot."
Another constable, whose evidence was given in the form of a written statement, said he and a colleague approached Constable Carroll's car shouting: "Stevie, Stevie, stay with us."
They said they could not detect any pulse when they reached him.
Constable Carroll was the first police officer to be killed since the formation of the Police Service of Northern Ireland (PSNI).
He was a married man with children, from the Banbridge area of County Down. He had served in the police force for more than 24 years.