Court told woman's murder conviction is unsafe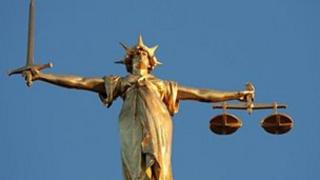 A woman's conviction for the murder of her drinking partner at a flat near Belfast is unsafe, the Court of Appeal has heard.
Lawyers for Alison Michelle Martin argued that the quality of DNA evidence cast doubt on her conviction.
Martin, 38, was sentenced to 12 years in prison for the murder of George McDowell, 47, in Rathcoole, Newtownabbey in July 2004.
The former alcoholic had arranged for the victim to stay at a friend's flat.
It was also claimed in court that a jury was either wrongly told she previously carried knives or else given insufficient guidance to deal with the disclosure.
Her trial heard how she had been drinking for several days before the killing.
According to the prosecution she turned up at the flat and ordered him to leave, before getting a knife from the kitchen and stabbing him in the neck.
Forensic examinations of the scene were said to have revealed her footprint in the victim's blood in the doorway leading from the living room.
Her clothes and trainers were also stained with Mr McDowell's blood, the court heard.
Blood
Appealing against the conviction on Tuesday, Martin's barrister, Karen Quinlivan QC, set out a possible alternative version of events where another person carried out the killing and then gave fabricated evidence against her client.
It was submitted that the trial judge wrongly admitted evidence on the probability of blood samples connected to a shoe imprint being attributable to the victim.
Martin's legal team further contended that bad character evidence that she often carried knives should not have been allowed.
The relevant propensity required in the case was the propensity to stab someone, not the propensity to carry a knife, they argued.
Ms Quinlivan stated: "In all the circumstances of the case the conviction cannot be considered to be safe."
The three senior judges who heard the appeal reserved their decision.