Small rise in Northern Ireland consumer confidence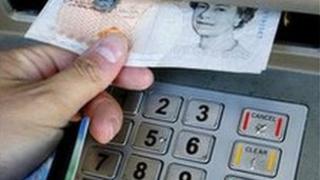 Consumer confidence in Northern Ireland improved slightly during December, according to a Northern Bank survey.
The survey looked at the financial position of local households and their expectations for the year ahead.
It said people's views on their financial position were at an all-time low during autumn 2011 but the figure crept up in December.
The bank's Angela McGowan said the small improvement may reflect an upbeat attitude in the run-up to Christmas.
Ms McGowan, who is the Northern Bank's chief economist, said: "It may also suggest a degree of relief that Northern Ireland is not a member of the European Monetary Union at this difficult time."
However, the level of confidence was still below its three-year average.
Of the 1,000 people surveyed, only 9% believed their household finances had improved over the past 12 months.
The rest of the respondents were split equally between those who believed their household finances had either stayed the same (45%), or deteriorated (46%).
You can hear more on this on the NI Business News Podcast (http://www.bbc.co.uk/podcasts/series/nibusiness)