Doubt over Ulster Canal funding from Republic of Ireland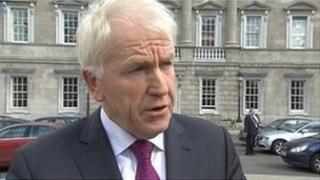 The Irish Government has contributed a total of 662,000 euros in funding for the Ulster Canal restoration project.
The figure, confirmed by Waterways Ireland, is out of 35m euros first pledged by the Irish government for the project in 2007.
The first phase of the restoration project runs from Upper Lough Erne in County Fermanagh to Clones in County Monaghan.
This was agreed by the North/South Ministerial Council in July 2007.
A spokesperson for Waterways Ireland said: "This is the date from which the costs were incurred."
In a statement, a spokesperson for Ireland's Minister for Arts, Heritage and the Gaeltacht Jimmy Deenihan said the Minister was continuing to "explore all possible options to advance" the project.
"Minister Deenihan met recently with senior officials of Monaghan County Council, Fermanagh District Council and Waterways Ireland to discuss approaches to setting up an inter-agency group."
Planning applications for the project have been lodged with the relevant planning authorities in each jurisdiction; Monaghan County Council, Clones Town Council and Cavan County Council, as well as the DOE Planning Service.
Mr Deenihan last year signalled that the ring-fencing of funds for the project was no longer viable.
Completed in 1841, the 93km canal runs through Fermanagh, Tyrone, Armagh and Monaghan.