State pathologist says Carroll bullet 'rapidly fatal'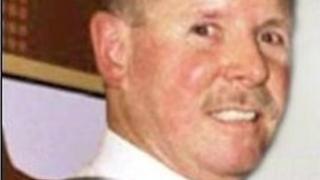 The state pathologist has told the trial of two men accused of the murder of Constable Stephen Carroll in 2009 that the single bullet that killed him was rapidly fatal.
Prof Jack Crane said the bullet entered his head near the left ear and passed through the base of the skull.
Brendan McConville, 40, and John Paul Wootton, 20, are on trial for the murder of the policeman in March 2009.
Both deny murder and possession of an AK47 assault rifle.
Prof Crane told the court that the bullet transcended through the police officer's brain before exiting in the floppy part of the right ear.
He also said there were other minor injuries to Constable Carroll caused by fragmenting glass.
Prof Crane said that after Constable Carroll had been shot attempts were made to resuscitate him, which would explain two fractured left ribs which he had also found.
Constable Carroll, 48, was shot in the head in Craigavon after answering a 999 call.
At the time, dissident republicans, the Continuity IRA, claimed they were responsible for the shooting.
Constable Carroll was the first police officer to be killed since the formation of the Police Service of Northern Ireland (PSNI).
He was a married man, with children, from the Banbridge area of County Down. He had served in the police force for more than 24 years.
Mr Wootton's 39-year-old mother Sharon denies perverting the course of justice by removing a computer from her home following the shooting.