PSNI fails in bid for BBC footage of a Real IRA parade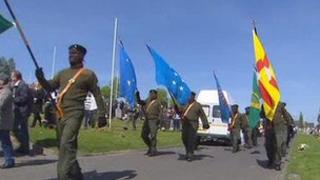 The PSNI has failed in a court action to force the BBC to hand over video shot at a Real IRA parade in Londonderry in April 2011.
The police had claimed it could be used to identify masked men by the way they walked or by facial features under balaclavas.
The case arose after 10 men dressed in paramilitary uniform paraded in Derry's City cemetery.
It took place during a 32 County Sovereignty movement commemoration.
One of them then delivered a speech on behalf of the Real IRA threatening anyone who gave support to the PSNI including members of the GAA and Catholic hierarchy.
They also threatened the Queen ahead of her visit to the Republic.
Detectives have been attempting to prosecute those involved and had sought unbroadcast video shot by the media on the day.
The BBC challenged this on the grounds doing so would endanger its staff and that the PSNI was fully aware of the likely nature of the parade and had failed to prevent it or film it themselves.
A detective told the court the nearest police officer was probably a mile away in Strand Road station and that the police had relied on a helicopter to observe the event.
Insufficient evidence
The BBC provided Belfast Recorder, Judge Tom Burgess, with evidence that the parade in the two previous years had included paramilitary elements and threatening speeches.
They argued that the police should not rely on media material for prosecutions when they know in advance that a crime is likely to take place.
A PSNI detective said she believed the walking style of the men involved could be analysed in order to arrest them as could their facial features.
However, Judge Burgess ruled that he had been given insufficient evidence to prove the video could assist experts in identifying the men and that the police had failed to show that the video would be of substantial value in its investigation.