Invest NI spends £4,285 on Van Morrison concert tickets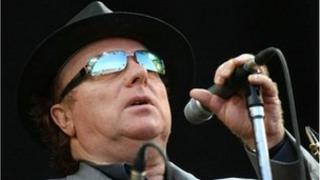 Invest NI paid more than £4,000 for two tables at an exclusive concert by Van Morrison at the Culloden Hotel on Monday, it has emerged.
The concert, a fundraiser for the Lyric Theatre, was preceded by a champagne reception and a five-course meal.
Invest NI said the event, attended by Enterprise Minister Arlene Foster, supported inward investment efforts.
A spokesperson said £4,285 was spent on entertaining 14 representatives from internationally-owned companies.
The representatives were either existing investors and/or had potential expansion projects.
The spokesperson said that the opportunity to attend an event with a Northern Ireland legend helped to enhance relationship with those companies.
TUV MLA Jim Allister said there was a place for hospitality "within reason".
He added however: "It is tax-payers' money, so I think it is wholly inappropriate that they should be squandering £200 a plate for some function in pursuit of what they call hospitality.
"I think it has to be done in a reasoned and measured way and this seems to be pursuit of a culture of squander of public money which I think the public would be quite shocked at, as indeed I am."