Bus strikes shelter in Belfast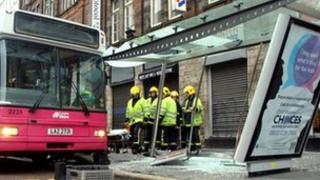 Emergency services were called to a crash involving a bus in Belfast city centre on Wednesday.
The incident took place at around 14:15 GMT in Queen Street, which was subsequently closed to traffic, but has since re-opened.
A Metrobus struck a covered bus shelter at which a number of people were standing.
Translink say that two people have been taken to hospital, but their injuries are not thought to be life-threatening.
BBC NI reporter Paddy O'Flaherty saw one woman being put into an ambulance.
"Everyone at the shelter seemed extremely shocked," he said.
"I was approaching Queen Street when I heard people screaming.
"I could see that the front corner of the bus had collided with the top edge of the bus shelter. The pavement was covered with glass and the shelter had been knocked sideways.
"Shop assistants had come out of the stores in area to help the people at the bus-stop."
Translink said that they will conduct a thorough investigation of the incident.