Gloria Hunniford signals big digital switchover date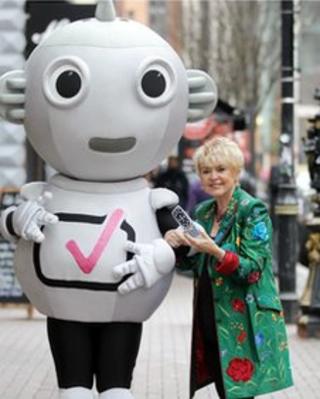 Television in Northern Ireland will swap from an analogue to digital service later this year.
The traditional TV aerial signal will be turned off in October and only digital receivers will work from then on.
Television presenter Gloria Hunniford was in Belfast on Wednesday to promote the digital switchover.
The campaign aims to make the elderly, the registered blind and those with other disabilities aware of all their options ahead of the change-over.
Gloria was happy to lend her support to the campaign.
"Although the switchover is a long way off, some people may already be concerned about what they need to do," she said.
"The good news is they don't have to be as the Switchover Help Scheme will supply eligible people with everything they need to make the switch to digital in plenty of time for switchover."
As part of the digital Switchover Help Scheme a bus will be touring around Northern Ireland with more information for anyone concerned about the switchover.
Its first stop will be Banbridge Leisure Centre on Thursday.
People are eligible for the help scheme is they are over 75, have lived in a care home for over six months, receive disability benefits or are registered blind or partially sighted.
Those eligible for the scheme will also get a letter about the switchover and could receive help in converting or installing the necessary equipment to continue watching TV after October.
For more information about the Switchover Help Scheme, please visit helpscheme.co.uk.