Sheep stolen from Ards Peninsula farm over Christmas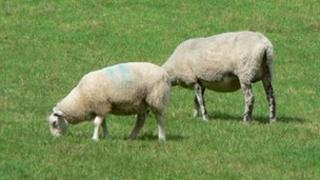 A flock of sheep have been stolen from a farm near Kirkistown on the Ards Peninsula over the Christmas holidays.
The 34 animals were taken from a field on the Ballycranmore Road some time between 21 December and 2 January.
Each of the sheep stolen was carrying twins or triplets, making the theft a huge financial loss to the farmer.
They were marked with a large blue 'C' on the left shoulder and have red dots indicating the number of lambs they were carrying.
The sheep also all have white faces and notches out of their right ears.
Police in Newtownards have appealed for anyone with information about the theft of the sheep to contact them.