Road crash victims to appear in new TV ads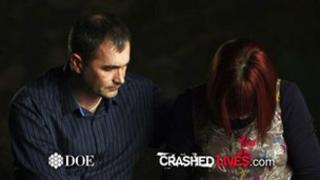 Environment Minister Alex Attwood will launch a new driver safety campaign on Thursday which features real life accounts of road tragedy.
Each of the four TV advertisements has a victim of a road accident describing what happened and the consequences.
One of them, Melissa from Londonderry, tells the story of how she was injured in an accident in County Donegal while travelling as a back seat passenger.
It was the one and only time she never wore a seatbelt while in the car.
Melissa was 19 when she was in the car crash in Letterkenny in June 2002. The three other people who were wearing seat-belts sustained no serious injuries.
She injured her spine and has been left a paraplegic for life. She is dependent on carers who visit her home three times a day.
Melissa said: "The worst day of my life was when I was told - Melissa, you'll never walk again."
In another of the adverts Melvyn tells how he crashed his car when he had been drinking, speeding and not wearing his seatbelt.
He has been left with a serious brain injury and is now cared for by his mother Dawn, who also appears in the advert.
The stories of two other people, Martin and Shannan, killed in serious road accidents, also feature in the Crashed Lives campaign. Their stories are told by their parents.
The environment minister hopes the bravery of those telling their story will help influence drivers.
"They are ordinary people, like you and me. Their emotion is raw and very real," said Mr Attwood.
"They each tell how their lives have been altered, in various tragic circumstances, and how road collisions have changed their lives forever.
"The overwhelming consequences of road collisions have far-reaching effects on family, relatives, friends, work colleagues and whole communities.
"These stories are the stories behind the headlines. They don't want other families to suffer tragically changed lives after losing a loved one on our roads - nor others to endure such life-changing injuries."
Already this year, two people have died on Northern Ireland's roads. In 2011, 59 people were killed.
The "Crashed Lives" adverts will run from 12 January to the end of February.