Leicester caught red-handed at Ravenhill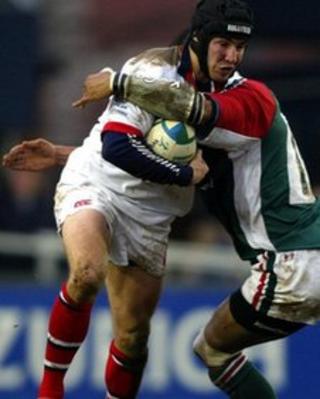 Ulster take on Leicester in a hugely important Heineken Cup tie at Ravenhill on Friday night and the fixture has brought back memories of a famous afternoon eight years ago.
At the same group stage in 2004 Ulster dished out one of the biggest defeats Leicester had ever suffered in club rugby's biggest competition.
The 33-0 victory over the Tigers was all the more remarkable because the visitors were one of the most formidable teams ever assembled in club rugby.
They had won back-to-back Heineken Cups in 2001 and 2002 and included household names who were part of the English World Cup-winning team of 2003.
Neil Back, Austin Healey and Ben Kay all played. Leicester and England captain Martin Johnston was left on the bench.
That decision appeared to backfire as Ulster captain Andy Ward scored two tries after British and Irish Lions winger Tyrone Howe had got the ball rolling.
Ulster out-half David Humpheys kicked his points and Shane Stewart added a fourth try for the bonus point win.
And all this was against the backdrop of protesters outside the crowd objecting to the game being played on a Sunday.
Ulster's finest hour since the 1999 Heineken Cup win at Landsdowne Road was also one of the most controversial rugby matches ever played in Northern Ireland.
The protest was led by the head of the Free Presbyterian Church, Reverend Ian Paisley - years before he was to become Northern Ireland's first minister.
About 40 people gathered at the gate of the ground and sang hymns as the fans made their way into the ground.
In 2004, Ulster played almost all their homes games on Friday nights but the game was moved to a Sunday to fit TV schedules.
This time round it is back to Friday night and Ravenhill has been sold out for days.
There are still links to the team that played so thrillingly and won so convincingly that day.
Humphreys is now the Ulster director of rugby. His younger brother Ian now pulls the strings at out-half and has recovered from a hamstring strain to play.
The one player who took the field in 2004 and who will be there again on Friday night is Paddy Wallace.
Eight years ago he was a talented up-and-coming star playing out of position at full-back.
In 2012, he is an established member of the Ireland set-up, has played at two World Cups and was a key member of the Irish Grand Slam side of 2009.
Wallace will no doubt remind his team-mates on Friday of that great day for Ulster rugby when the kingpins of European rugby left Belfast with their tails between their legs.
He will not dwell on the return fixture a week later. Leicester exacted their revenge, destroying Ulster 49-7 at Welford Road.
But that is a story for a different day - 2004 was all about Ulster rugby's first, unforgettable, Sunday service at Ravenhill.