Sacred or secular?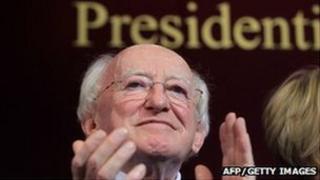 It is the second Sunday after Christmas, and among those attending Catholic mass in the Pro Cathedral in Dublin city centre is the former Irish president, Mary McAleese.
Her successor, President Michael D Higgins, has previously described himself as 'spiritual', rather than religious.
In any case, the Irish Constitution requires the president on taking office to take a religious oath. And that, say critics, translates as "atheists need not apply".
"We need a secular constitution. Currently our constitution starts off by saying that all authority comes from the Holy Trinity," said Michael Nugent, of Atheist Ireland.
"We want an education system that teaches children objectively about the different religious beliefs and non-religious beliefs that exist
"There's also a lot of what I would call 'religious background noise' in the relationship between Church and State, even down to trivial things such as the angelus being played every day on our national broadcaster."
Constitutional reform is on the Irish Government's agenda, as Labour Party Senator Ivana Bacik explains.
"The reality of modern Ireland is that it has become a much more pluralist and a much more inclusive modern society, where we are no longer the homogenous 99% Catholic society we once were," she said.
A constitutional convention is due to review the Republic's constitutional text in the coming months.
"The convention is not an attempt to secularise society or to undermine anyone's religious belief or faith, it's simply to identify are there any aspects of the constitution that are out of date with modern life?" said Senator Bacik.
Anti-Catholic
David Quinn of the Iona Institute, a pro-religion think tank, agrees that Ireland is becoming more secular.
"It's driven primarily by the secularising trends that would have overtaken the rest of Europe over the last century, and only secondly actually by the scandals, because the downward trends were in place before the scandals ever came to light."
However, he also claims that an anti-Catholic sentiment in Ireland dominates discourse about the Catholic Church.
"Church bashing has replaced 'Brit bashing' in the national psyche," he said.
"If you go back to the days when nationalism of a certain type, a one-eyed type of nationalism, was very strong in Ireland, if you did not go along with most vitriolic criticisms of Britain you were a 'West Brit'.
"We have psychologically replaced this with a very unthinking one eyed critique of Catholicism."
Recent events point towards a reaction from some Catholics against growing secularism.
A Catholic priest in Kerry this week condemned the removal of crucifixes from hospitals in the county.
Elsewhere a Catholic lay group is campaigning to reverse the Irish government's decision to close its embassy to the Holy See.
Morale
"Our real problem today is not caused by society or the current government's policies which are quite clearly anti-church, anti-catholic" said Fr Vincent Twomey, a former professor of moral theology at Maynooth seminary.
"The church itself has contributed to the secularisation of society by failing to grasp the imagination of people, by failing to feed their intellectual thirst for the truth."
The Republic's 2011 census results, expected to be published in the summer, will reveal if the 'non-religious' remain the second largest group in the State after Roman Catholic.
David Quinn is looking further ahead.
"In 10 or 15 years time will there be a situation where there will be fewer active, practising Catholics but will they have a restored, re-invigorated morale?" he said.
"Will there be something of a renewal of faith, so that we will have fewer Catholics but truer as well? That remains to be seen.
"It took us decades before we began to overcome some of our excessive anti-English feeling, is it going to take decades before some of the excessive anti-church feeling begins to diminish?"