NI health service 'will not replace cosmetic breast implants'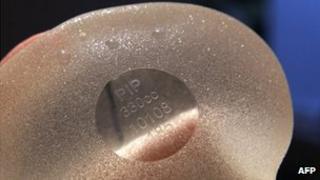 Northern Ireland women who received controversial PIP breast implants for health reasons will have them replaced, the health minister has said.
However, Edwin Poots said the health service would remove but not replace implants inserted for cosmetic reasons.
In the UK, 40,000 women have received the French-made implants which sparked a health scare after reports that some had ruptured.
They were banned after they were found to contain non-medical-grade silicone.
Earlier this week the Harley Medical Group - which fitted 13,900 women with the implants between September 2001 and March 2010 - said it would not replace them free of charge.
Mr Poots said he was trying to ascertain just how many Northern Ireland people had received the implants.
"We have heard the figure of 400 but we can't verify that figure," he said.
He said the first thing anyone who has received the implants should do, was talk to the experts within the National Health Service and they would be given advice.
"Should people desire them to be removed, we will cover the cost. We will seek to get the money back off the private company involved," the minister said.
"Should anyone have received implants, and we don't believe it is the case, under the health service, we would not just remove the implants. We would replace them.
Mr Poots said removal of implants "would not be done for cosmetic reasons".
"It would only be done for health reasons. If people want to enhance their appearance, that isn't a duty or a role that we consider we should be taking on at this point.
"But if it is about someone's health and there is serious damage going to be done to someone's health, then those matters will be given the appropriate consideration," he said.