Police bid to tackle west Belfast interface incidents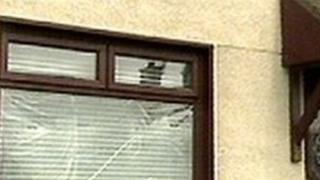 Police have been meeting community representatives to discuss sectarian incidents at a west Belfast interface.
The talks follow a series of attacks on homes and cars in the Black's Road-Suffolk area in recent weeks.
A police spokesman said officers had taken the names of 15 young people and visited their parents and guardians to discuss their behaviour.
They have appealed to parents to ensure they know where their children are at night.
The area has enjoyed mainly good community relations in recent years through the work of the local cross-community interface group.
The spokesman said police were keen to ensure that progress in creating a safer environment was maintained.
"The Neighbourhood Policing Team will also be working in the relevant areas with the support of response policing crews, to engage the local community and to identify and bring individuals who may be involved in criminal behaviour before the courts," the he said.
"The last thing any parent wants is for their child to be brought home by the police because of wrongdoing but if necessary police can refer an individual to the Police Youth Diversion Officer for prosecution purposes."