The good, the bad and the pleasantly surprising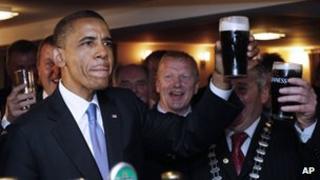 Belfast is a "hedonistic party town", Londonderry a "pleasant surprise", but "poor old Larne is a little lacking in the charm department".
Well, that is according to the latest Lonely Planet guide to Ireland, published on Thursday.
Now in its 10th edition, the guide said Ireland's financial woes have not dampened the spirits of a "resilient population".
"While the old cliché that Ireland is too well used to hard times to let them knock it out of its stride is ridiculously crude and simplistic, there is some truth in it," the guide said.
"The Irish - fatalistic and pessimistic to the core - will shrug their shoulders and just get on with their lives."
And another cliché, the country's love of an alcoholic beverage, also features heavily in the guide.
If fact, heading to the pub tops the list of 21 things to do while visiting Ireland.
Coming in behind that are visiting Dublin, Connemara and the Rock of Cashel, taking in some traditional music and hiking.
While referred to as not "the prettiest of cities", Derry was lauded for a "great riverside setting" and a "determined air of can-do optimism that has made it the powerhouse of the North's cultural revival".
'Buzzing'
Coordinating Author Fionn Davenport said the reputation of a warm and friendly population meant visitors from around the world continued to visit Ireland.
"Times are tough, but the Irish are adaptable people and cope well with whatever comes their way," she said.
"The new guide shows just how much the nation has going for it in terms of fantastic scenery and buzzing towns and villages."
So Belfast and Derry got a thumbs up from the Lonely Planet team, but Armagh city, like Larne, did not get the most glowing of reviews.
"Despite having a number of attractive Georgian buildings, the town has a bit of a dreary, rundown feel to it, with gap sites, wasteland and boarded-up windows spoiling the streetscape," the guide said.
However, it was still deemed worth a visit for "the fascinating Armagh Public Library and nearby Navan Fort".
Letterkenny in County Donegal also came in for a bit of a slating as well.
While it has a good choice of restaurants and accomodation, the guide called it a "mindless development", with a "complete lack of soul".
But if you fancy a staycation rather than a vacation in 2012, be advised that "everything good about Ireland can be found in County Cork", County Clare's Kilkee beach has "powdery white sand" reminiscent of the Caribbean and Athlone is one of Ireland's "most vibrant towns".