Biddy O'Loughlin: The girl who thought she was Irish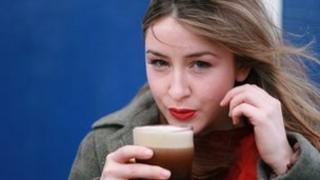 Biddy O'Loughlin is on her third visit to Ireland.
Her love affair with the Emerald Isle began when she was a child and living in the Australian outback.
She has turned her experiences into a one-woman show combining story-telling, stand-up and musical interludes.
So how did a girl who grew up in Alice Springs come to think of herself as Irish?
"My mum always told me and siblings that we were, which was a bit bizarre," said Biddy.
"I think she had this identity issue with Ireland.
"I think it's the stories to me in particular because my family were very Irish in their way of talking and telling stories and then I came to Ireland and I'm like you're just like my auntie Kate."
Biddy made her first trip to Ireland when she was 19.
"I hadn't really met that many Irish people when I was in Oz but I just came over because my mum had always told me I was Irish so I thought I would go and check it out," she said.
"I came over and I just fell in love with it as soon as i was here.
"I wandered around for a couple of months and then I couldn't stop thinking about it and I came back on an exchange then had to leave again and now I'm back again.
"I'm a bit like a boomerang."
Her Irishness may stem from her ancestors.
"All of my family are O'Loughlin's , O'Leary's, Maloneys - in Australia all the Irish kept marrying the Irish so we're very Irish," she said.
"I have a couple of cousins in Cork.
"My dad's Australian cousin married an Irishman and then she moved back to Cork so we have relatives there but I don't actually have that many relatives.
"We do have a family farm in Sligo and I went back to visit but our surnames are all completely different now and we're very distantly related."
'Very Australian'
She wrote seven minutes of stand-up during a trip back to Australia and performed it in public when she returned to Ireland.
"I just wrote this show about feeling I really identified with people when I came over here, but I'm very Australian according to my passport," she said.
"I started in the International Bar in Dublin and it just sort of went from there.
"The crowd liked it. They identified with it because everyone has got international friends now who say 'I think I'm Irish' and joke about it, but some of them even said to me, 'you're more Irish than I am'.
"I just kept performing and then I went home and I got really sad about Ireland again and I thought, well I can stretch that out to a show surely.
"I put some songs and some poetry in there and then I had a full show, so that was nice."
Biddy has performed her show at the Edinburgh Festival and also at venues in the Republic of Ireland.
"I've been to Belfast once, but I've never really experienced performing in the north of Ireland," she said.
"I'm looking forward to the show, I'm very excited."
Her impressions of her previous visit were of a place that was really beautiful.
"It actually reminded me a bit of Montreal for some reason," she said.
"I was just up there for a couple of days. My friend and I were walking around the Botanical Gardens and the museum.
"I just found it a really peaceful place which is bizarre when there is so much history of violence, but I just thought it was really lovely and calm.
Her visa runs out in May so she will have to once again leave Ireland for pastures new.
"The only way I can really stay is marriage, so I'm on the look out for a nice young eligible man," she joked.
"I think I'm kind of nearly ready to try somewhere else now, maybe Canada, but it will never be the same as how I feel about Ireland.
"I'm lucky that I can go from one really large, big country like Australia to Ireland.
"I feel really bad for the people who can't even get out of their countries to go anywhere."
Biddy O'Loughlin will be performing in the Blackbox in Belfast as part of the OUT TO LUNCH FESTIVAL 2012 on Thursday 12 January at 13:00 GMT.
The festival runs until 29 January.