A row erupts over which department should gain control of colleges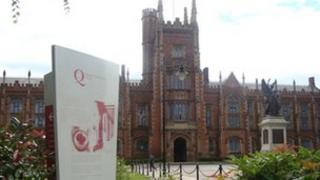 Colleges and universities should return to the control of the Department of Education, according to unions.
They are currently run by the Department for Employment and Learning which is due to be scrapped.
The plan is to move the universities and colleges remit to the Department of Education.
However, politicians and college leaders said it would be better to include them in the Department of Enterprise, Trade and Investment.
Now the university and colleges union says most teachers, trade unions and community groups would prefer them to return to the Department of Education.
Jim McKeown of the University and Colleges' Union said education was not only about business and that a single department would "best represent" the interests of all those of all ages who want to learn.
'Cradle to grave'
Seamus Searson, the chair of the Irish Congress of Trade Union's education committee, said the current split between schools and further and higher education made no sense and they should be reunited under the Department of Education.
He said the plan should be to cover education from "cradle to grave" and not concentrate on jobs for particular businesses.
The plans to abolish one of Stormont executive's departments were announced on Tuesday following discussions over the future of the justice ministry held by Alliance leader David Ford.
He said his party was not against a reduction in the number of assembly departments but said there was a need for a single strong department of the economy.