Whitehouse high rise flats evacuated due to fire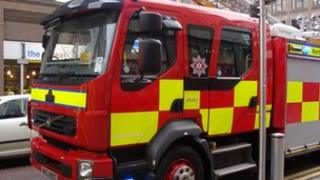 Thirty-six people were moved out of a block of high-rise flats in Whitehouse, Newtownabbey, due to an an overnight fire.
The blaze, on the first floor of Woodland flats, was reported shortly before 01:00 GMT on Thursday.
Police officers forced entry to a number of flats and residents were then taken to a local leisure centre.
One person was treated at the scene for smoke inhalation. The fire was started accidentally.
In total, 14 floors of the building were evacuated. Seven fire appliances attended the scene.
A local coach company helped take some of the residents to the leisure centre.
PSNI Chief Inspector Stephen Reid said: "Being woken from your sleep in the middle of the night and told that there is a fire in your building would be a traumatic experience for anyone.
'Potentially dangerous'
"I believe the professionalism of the responding police officers, the community mindedness of the local coach driver along with the hospitality shown by council staff significantly lessened the trauma and stress of the situation for residents.
"I was particularly impressed with the community spirit shown by the coach driver who, when approached by police in the early hours, did not hesitate to help.
"I would like to offer my thanks and praise to everyone involved in successfully resolving this potentially dangerous situation and ensuring the safety and well being of the residents."
Residents have since returned to their homes.