US firm buys Belfast software company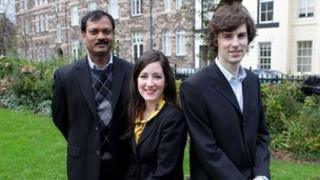 Belfast computer software firm WorldDesk Ltd has been bought by US company DeskStream Inc.
Founded by Claire Moore and Jonathan Chesney in early 2010, WorldDesk wanted to change how people, organisations and schools, in particular, used computers.
Its goal is to deliver a personal desktop experience to every school child in the world by 2030.
The founders and employees of WorldDesk will continue to be based in Belfast.
"We wanted to fundamentally alter the norm of how people think of, and use, their computer desktop," said Jonathan Chesney.
"DeskStream shares this vision and has placed a great deal of confidence in our mission. We are delighted with today's announcement and we look forward to taking WorldDesk to the next level."
News of the acquisition was announced at the 2012 Consumer Electronics Show (CES) in Las Vegas.