'No evidence' of explosion in Derry's Waterside - PSNI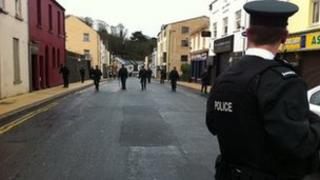 Police have said they have found no evidence that an explosion occurred in the Waterside area of Londonderry.
Homes were evacuated in the Spencer Road and Fountain Hill areas after a blast was reported on Tuesday afternoon.
However after carrying out "an extensive specialist search" police said there was nothing to indicate any explosion had taken place.
A cordon around Quarry Steps has now been lifted.
Residents in other areas were allowed to return home on Wednesday afternoon.
A number of calls were made to police from about 17:00 GMT on Tuesday reporting an explosion.
A spokesperson said: "We do know that a lorry sustained two tyre blow outs in John Street around the time of the initial reports - this resulted in some damage to windows in the immediate vicinity of the vehicle.
"The majority of calls we received came from the Waterside and many people we spoke to reported a bomb explosion - one caller stated that debris had fallen on the building of a local business and others said that their windows and houses shook.
"Police also had to take into account a report of masked men in Dunfield Terrace.
"As a result of all those calls the decision was made to focus our searches and enquiries in the Spencer Road area."
The spokesperson said they appreciated this had caused disruption but the searches were necessary for public safety.
"The cause of the reported explosion remains unclear. Unless further information comes to light police have currently exhausted all available lines of enquiry," the spokesperson added.
During the search of Quarry Steps suspected herbal cannabis was found with an approximate street value of between £400 and £500.