London searches as part of £450,000 Lisburn drugs probe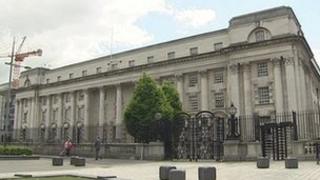 Searches have taken place in London as part of a widening investigation into a £450,000 drugs find in County Antrim, the High Court has heard.
Addresses in the north of the city were targeted on Wednesday.
Detectives are probing a suspected crime gang allegedly importing and supplying drugs in Northern Ireland.
Details were disclosed as bail was refused to one of four people charged over a cocaine and cannabis seizure in Lisburn two days before Christmas.
Mark McAleese, 35, of Johnston Way in the city, faces charges of possessing and being concerned in the supply of Class A drugs, and concealing criminal property.
Cocaine press
He is alleged to have been at the home of two co-accused when police uncovered the haul.
A cocaine press and two suspected Taser stun-guns were also found at that property.
Follow-up searches at Mr McAleese's home led to the discovery of more than 28,000 euros and £11,000 sterling, the court was told.
Phone records were alleged to show contact with Pakistan, Holland and the Republic of Ireland.
Kate McKay, prosecuting, said receipts were found for purchases of expensive furniture and pointed out that Mr McAleese was an unemployed window cleaner.
"Police believe this is an organised drugs crime gang responsible for the supply of significant amounts of cocaine and cannabis into Northern Ireland," she said.
Arrests and cash seized
Mrs McKay described the ongoing investigation as "a spider's web" which has now spread beyond Northern Ireland.
A PSNI detective was said to have joined Metropolitan Police in carrying out a number of searches in north London on Wednesday which led to the arrest of two Chinese nationals and the seizure of £120,000 in cash.
Mr McAleese claims, however, that the money found at his home came from business ventures linked to the sale of Ugg boots and Viagra tablets.
His barrister said he had admitted making a lot of money through importing the pills over the last three years.
It was also stressed that Mr McAleese was just visiting the house where the drugs and equipment were recovered.
"He has maintained his innocence," the defence lawyer added.
But Lord Chief Justice Sir Declan Morgan refused his application for bail due to the risk of disruption to continuing police inquiries.