Pat Finucane's family win right to judicial review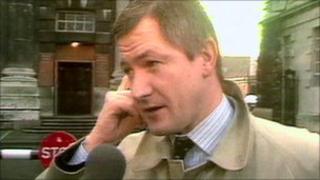 The family of solicitor Pat Finucane have won the right to a judicial review over the government's refusal to hold a public inquiry into his death.
Mr Finucane was shot in his north Belfast home by the loyalist UFF.
The family, who have long campaigned for a full independent inquiry, wanted a judicial review of the government's decision to appoint a lawyer to investigate the case.
The judicial review into that decision will now take place in May.
Speaking after Friday's hearing at the High Court in Belfast, Pat Finucane's son John said he was pleased by the court's decision and that the family were a step closer to a full hearing into his father's murder.
Mr Finucane's widow Geraldine said: "I am very pleased that he has granted us leave to go forward to a full judicial review hearing and I think the significant aspect of it was that it was completely unopposed."
"It was surprising but a very pleasant surprise for a change."
The Finucane family also confirmed that they would not co-operate with Sir Desmond de Silva's review of the murder.
Truth
Last October, Sir Desmond was asked by Prime Minister David Cameron to examine the 1989 murder.
His review is expected to be completed at the end of this year.
Owen Paterson, the current secretary of state, has said he believes that the De Silva review is the best mechanism available to "get to the truth".
"Of all the subjects for inquiry, this is the only one that has had a huge police inquiry, possibly the largest police inquiry in British history," he said.
"Over a million pages of documents, over 900 personal witness statements and there are actually fewer witnesses alive now to this terrible incident than were available to Saville.
"We want to get to the truth and we believe that it lies in the investigation that has gone on."
In a previous statement to parliament in October 2011, Mr Patterson said that the government accepted the findings of two previous investigations which found there had been security force collusion in Mr Finucane's death.
Unsatisfactory
In 2004, the then Northern Ireland secretary of state Paul Murphy announced his intention to hold an inquiry under the new Inquiries Act.
The Finucane family are opposed to the probe being held under this legislation, which they say makes the inquiry accountable to the minister responsible, rather than to parliament.
Michael Finucane, Pat's son, said Sir Desmond's review completely excluded his family from participation.
"We are to be expected, after all this time and all the revelations that have emerged about the murder, to take the government's word for it," he said.
"In a nutshell, the murder of Pat Finucane has produced evidence that may implicate the British government in the murder of a solicitor, an officer of the court.
"Who in their right minds would take the government's word for anything in a case such as that?
"That is the reason why this review is unsatisfactory.
"It's why we've taken court proceedings and it is why we must have a public inquiry, so we, and the public at large can be happy and satisfied and confident that this case has been properly investigated and such a thing shall never happen again."
Sir Desmond's review is expected to be completed by December 2012.