Departures at Helm housing ahead of critical report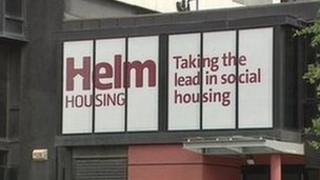 There have been top-level changes at Northern Ireland's biggest social housing organisation.
Senior executives and board members have departed Helm Housing, ahead of the publication of a government investigation next week.
A report to be published on Monday contains criticisms relating to several multi-million pound purchases of land.
Procedures were not followed, senior staff did not work well together and matters were withheld from its board.
At least six sites costing in the region of £20m have questionable development potential.
They include the £9.7m Great Georges Street site beside Belfast's M3 fly-over which, five years after acquisition using mostly taxpayer funds, is currently a car park and not the 200 low-rent homes which were promised.
Several years ago, Helm also paid nearly £3m for four-semi detached houses at Bellevue Park in north Belfast, without obtaining a valuation.
The idea was to demolish the homes and build 20-plus social housing units, but none was ever built. The original homes are currently lying derelict.
Three senior staff, including its chief executive, have left the organisation and one more is currently suspended.
Some of the departures are thought to have been for health reasons.
There have also been boardroom departures to facilitate a wider shake-up.
Social housing organisations are responsible to the Department of Social Development, who suspended Helm from receiving public funds last year and ordered the investigation.
The move followed contact from a whistle-blower.
Social Development Minister Nelson McCausland will make an announcement on the report in the assembly on Monday afternoon. It is understood to contain dozens of recommendations.
Future public funding could rely on Helm putting its house in order.