Northern Ireland young scientists head to Dublin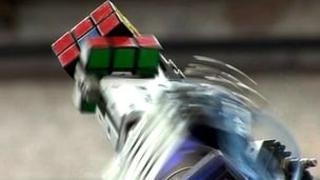 The search is on to find the best young scientist on the island at the RDS in Dublin.
It is the 48th year of the BT Young Scientist and Technology exhibition and it is bigger than ever with a record 550 projects.
Thirty of those projects are from schools across Northern Ireland - covering a diverse range of ideas ranging from innovation in modern medicine to staying safe in the sun.
Lavina Blanking from St Mary's in Londonderry is nervous.
The judge is approaching and she has to sell him on her project - A Spoonful of Medicine - which examines how accurately different spoons measure a dose of medicine.
He smiles, Lavina chats away and before she knows it, it is all over.
"I was very scared, I thought I was going to mess it up. But we got on and I made sure I got everything across, so it went good, hopefully!" she said.
It is her first time at the BT Young Scientist and Technology Exhibition, but her science teacher and grandmother Ann Blanking, has been bringing students for years.
She said there is a prestige attached to the competition, and she is delighted to have 15 girls showcasing seven projects here.
'Brilliant idea'
There are 16 schools and 30 projects in all from Northern Ireland. The chair of Stormont's Education Committee, Mervyn Storey said he was proud of all their efforts.
"They have projects which I have no doubt will be able to be developed and given the economic issues we face, there are skills and ideas that will be to the fore as we move ahead in the future," he said.
And one idea receiving much attention is a collar bone cast designed by Kiera Kerr from St Killian's school in Larne.
She said many people agree that something needs to be done in the area, as existing solutions for a broken collar bone, such as slings, fail to keep the arm protected.
An orthopaedic surgeon is interested in trialing the product, and Kiera admitted the idea has been impressing the judges.
"The judge yesterday said we should try and get it patented, because it's a brilliant idea," she said.
It is potential like this, which reinforced the message that science, technology engineering and maths are where it is at for future jobs north and south.
Eve McLelland from Grosvenor Grammar School in Belfast attended with her fire safety device. She said that technology is definitely taking off in her school.
"It's a subject more people are interested in and I think that's just right. Engineering is definitely an area people need to be going in in the future," she said.
Eve is soon surrounded by a group of young boys asking about her project.
And that is what makes this week such a fun one for the 4,000 students involved - there has been hard work to get here, but there' is plenty to amuse, entertain and inform.
The only slight problem might be at the farewell disco on Saturday night, as girls definitely seem to outnumber the boys.