Former prisoner unlawfully detained before deportation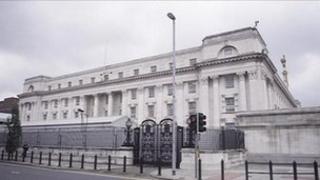 A convicted drugs smuggler is set to be awarded damages after a High Court judge ruled he was unlawfully detained before his deportation back to Germany.
Hans Ulrich Reuter was due to be deported on 20 June last year after serving a 10-year sentence.
Instead because of a mix-up he spent five days in detention centres in the UK.
Mr Justice Treacy ruled that the UK Borders Agency failed to act with "reasonable diligence and expedition".
The 65-year-old served a 10-year sentence for having more than 13kg of cocaine.
He was convicted of possessing the drugs which were seized at Belfast International Airport in 2006.
Belfast High Court was told that a company contracted by the Borders Agency to collect him from Magilligan and escort him to the airport went instead to Maghaberry Prison.
Reuter missed his scheduled flight and was instead moved to holding centres in Scotland, Manchester and London before finally boarding a flight to Berlin on 25 June.
He launched judicial review proceedings, claiming he had been unlawfully detained and the victim of false imprisonment.
A claim for damages formed part of the challenge.
Ruling on the case on Friday, Mr Justice Treacy said Reuter was subjected to "a period of extended detention while he was shunted about from one immigration removal centre to another".
The judge said it must have been "a disquieting and disorientating period" for Reuter when he was looking forward to his freedom in Germany after completing a lengthy prison sentence.
"I conclude that the continued detention of the applicant in those circumstances was unlawful," he said.
A separate hearing may now be required if the level of damages to be awarded cannot be agreed between the two sides.
Mr Justice Treacy said if the case came back to court he wanted an explanation for why it was necessary to take Reuter from prison to three different holding centres.
He added: "I would also like an affidavit from the respondent setting out how much this failure to pick up the applicant as arranged on June 20, and how much all the subsequent arrangements that had to be put in place, have actually cost the respondent and the tax payer."