Future of the annual Lord Mayor's parade is in doubt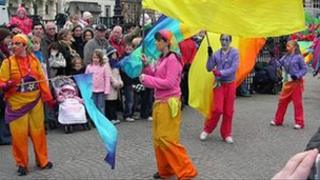 The future of the annual Lord Mayor's parade in Belfast is in doubt after its funding was diverted to pay for a separate carnival.
The parade, now known as Belfast City Carnival, has taken place every year for more than half a century.
However, its £80,000 funding will now be used for a carnival that will form part of the 2012 Cultural Olympiad.
Councillors have said the 2012 event not only looks unlikely, but are considering plans to axe it completely.
A council spokeswoman confirmed the carnival would not take place in its "traditional format as council agreed to divert that budget to the Land of Giants project".
"Members believe this is the most efficient and cost-effective way of staging a large scale public event to mark the 2012 celebrations and Cultural Olympiad," she said.
"There has been no decision on the long-term future of the Lord Mayor's Carnival, however any proposed changes to this event will be a discussion for members."
SDLP councillor Bernie Kelly, who sits on the development committee, was adamant that it was still in the debating stages and no final decision had been made on its overall future.
"It certainly needs to be improved upon, but people are generally in favour of having something to recognise the civic role," she said.
She added, however, that there was a need to ensure value for money.
Strongly opposed
Former mayor Ulster Unionist Jim Rodgers said he was "strongly opposed to the scrapping of the parade".
He held two terms, the first time was in 2001-2 when the Lord Mayor's parade was held in June at the end of his time in office.
His second time as mayor on 2007-8 had seen the decision to move the event to May which fell at the very beginning of his tenure.
Cllr Rodgers said he was "flabbergasted" that the timing had changed and that there was "no comparison" in the two parades.
"The timing is wrong. It used to be a look back on a year of celebration and a way of the residents saying thank you," he said.
"If it falls in May, no-one knows you.
"I definitely noticed less participation and a reduction in spectators the second time about."
Cllr Rodgers also said more time and resources were needed to fund the event and believed there was money in the budget to hold both Belfast City Carnival and the 2012 Cultural Olympiad.
He said he will be raising his concerns at February's council meeting when a decision on staging the parade this year will take place.