FG Wilson upsets workers by ruling out Help for Heroes fundraising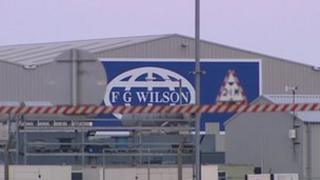 A row has broken out between workers and management at a County Antrim engineering firm over its charity of the year.
Some staff at the Newtownabbey firm wanted the Help for Heroes charity to be considered for the annual award but the company said no.
The charity raises money for injured soldiers,
Each year, FG Wilson employees nominate a charity and employees, supported by the company, raise funds for it.
Last year the Macmillan Cancer Support was chosen.
Newtownabbey community worker Phil Hamilton, a former soldier who has helped fundraise for the charity in the past, said he was approached by workers angry with the decision.
"The workers were told that the company do not promote anything that can be potentially divisive along political or religious grounds and that it can't accept requests from political or religious organisations," he told Radio Ulster.
"It also said this charity directly supports a political cause but that is not the case. The charity Help for Heroes is not political.
"It is a lifeline for soldiers who have been injured. FG Wilson refusing it as a nominated charity and calling it a political organisation is wrong."
Mr Hamilton called on the company to overturn its decision.
He said: "No-one is saying Help for Heroes should be the chosen charity but it should be allowed to go to the charity committee like any other nominated causes."
In a statement FG Wilson defended its position.
"It is important that the nominated charity is in line with our commitment to promote a neutral work environment and will be embraced by our employee group on the whole, which includes people from a variety of backgrounds.
"This year, one of a large number of charities nominated was felt not to meet these requirements."