Sorry still the hardest word - at Stormont and beyond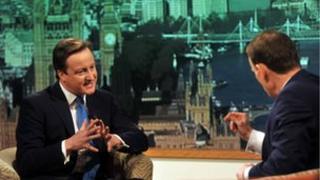 Live from Stormont, the assembly is back. And that means live microphones, which for politicians, can be like landmines.
David Cameron, the Prime Minister, is just the latest politician to have to say sorry after saying the wrong thing in the Commons.
He had to apologise just days ago after a public storm when he likened the Shadow Chancellor's performance to someone with Tourette's. This syndrome causes the sufferer to use words inappropriately or involuntarily.
In his apology on the BBC, David Cameron said he was speaking "off the cuff." "If I offended anyone, then of course I'm very sorry about that. That wasn't my intention at all."
Such words from the powerful can be rare, according to Nick Garbutt of Asitis Consulting in Belfast.
"The more important and the more powerful an individual is, the more reluctant they seem to be to apologise because they see that as a sign of weakness," he said.
"They shouldn't do that. They should see the ability to apologise as a sign of strength."
The SDLP leader Alasdair McDonnell is the latest Northern Ireland leader to apologise.
This followed a media storm in which members of his own party complained publicly when he spoke in an Irish News interview about MLAs getting a little more money and better pensions.
He compounded the remarks with a statement that inflamed the storm in these hard economic times.
After issuing a statement of apology, Dr McDonnell told BBC Newsline he had been careless and injudicious with his words: "I am not perfect, and I do not know anybody out there who is.
"I have made a mistake in that I didn't set the thing in the right context. And I'm standing up now and I put my hands up and I say - yes, I made a mistake."
He also said his words had been taken out of context while answering a hypothetical question. This is perhaps why most politicians refuse to answer hypothetical questions.
Mr Garbutt suggested that Dr McDonnell's apology in the interview sounded perhaps a bit equivocal to be truly effective.
"I think the point that he originally made was quite a valid one and if that is what he really thinks then he probably would have been better to have brazened it out," he said.
But brazening it out is not easy. Tom Elliott, the Ulster Unionist leader, ended up apologising a few days after he lost his temper and referred to Sinn Fein "scum."
He made his remarks at last May's election count which he later regretted, telling the BBC Politics Show: "I certainly apologise to all those good nationalists, republicans, even Sinn Fein voters, who feel offended by it because I have made it clear it was not directed at them whatsoever."
'Offence'
Not only can politicians not afford to lose their tempers, they must heed the golden rule: never put it in writing if you don't want it in a headline.
The Alliance leader David Ford ended up apologising to the Bloody Sunday families after an e-mail was leaked to the BBC in which he described the Saville Inquiry into the deaths as "pointless."
"It's clear that in that private e-mail I used a clumsy and inappropriate phrase which caused significant offence," he said.
"I told the families I regret that I caused offence. It was not a total representation of the concerns I have about the legal process and what it will deliver."
The Belfast Lord Mayor Niall O Donnghaile had to apologise last month when a row erupted over his refusal to present a teenager army cadet with a Duke of Edinburgh Award.
"It was not my intention to cause anyone any offence - in particular this family and the young girl involved.
"If that has been the case then of course I have no hesitation in apologising for that."
Mr Garbutt - and indeed Sinn Fein - said careful planning could have avoided that apology.
He said the escalation of the row, to the floor of the House of Commons, could result in the episode lingering for some time.
What about the DUP? It was a bit of a challenge to think of an apology by one of the key players.
The press office kindly pointed to a contrite statement from the First Minister, as the assembly dissolved last March ahead of elections.
Peter Robinson told MLAs: "For those in other parties - in case I don't see them again - if in the heat of battle - I've said something that has hurt or offended them, let me apologise and hope the wounds will heal."
Of course, like politics, the apology is both an art and a science. Package, presentation and delivery matters.
David Cameron's apology included a reference to a Hollywood star: "I'm sure Meryl Streep - as she came to the House of Commons and watched Question Time - she probably saw it can be challenging."