NI Stargazers get ready to make the most of starry, starry nights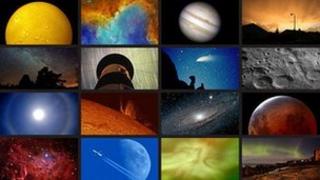 Stargazers across Northern Ireland will once again have a chance to make the most of the wonders of the night skies.
BBC Stargazing Live returns on Monday for a second, three-night series, hosted by Professor Brian Cox and Dara O Briain.
They will broadcast live from the control room of the Jodrell Bank Observatory, interacting with the audience and gleaning information from a starry collection of the country's finest astronomical minds.
In their own unique style, the pair will tackle some of the most intriguing questions in astronomy.
These include: Why does the moon cause the tides? How do we know where black holes are when they are impossible to see? and What will we actually say if we ever make contact with an alien race?
There will also be hints and tips for getting started in Stargazing and advice on navigating your way around the skies.
The programme brings together astronomical societies, telescope demonstrations, interactive activities, talks, recitals, planetarium investigations and astrophotography.
In Northern Ireland, a BBC Stargazing Live showcase event will be hosted by Craigavon Borough Council's Lough Neagh Discovery Centre on Tuesday, 17 January from 18:00 to 21:30 GMT.
Join BBC Northern Ireland and the Irish Astronomical Association for an evening of astronomy beside the UK's largest freshwater lake and its uninterrupted miles of dark skies.
It is free of charge and the activities on offer are suitable for families and individuals of all ages.
You do not need a ticket, but some activities will be offered on a first come, first served, basis.
Outdoor observing sessions with experienced astronomers will take place beside the lake if the weather permits.
Back inside, learn more about the universe in the Mobile Star Dome on loan from Armagh Planetarium.
Other activities include astrophotography taster sessions, meeting Northern Ireland's first prospective astronaut and even touching meteorites from space.
You can see telescopic and astronomy photography exhibitions and take part in a space-themed radio drama play.
And experts from Queen's University and the Irish Astronomical Association will be on hand to answer all your questions about astronomy.
Free star and moon guides and activity packs will also be available.
As part of BBC Stargazing Live, Anne Marie McAleese and Darryl Grimason will present BBC Radio Ulster's Starry,Starry Night - a live two-hour celebration of the night sky on Friday, 27 January between 20:00 and 22:00 GMT from Delamont Country Park, County Down.
They will be joined by a range of experts to look at the night sky and hear about the science, history and influence astronomy has on our lives and the world around us.
BBC Stargazing Live is on BBC Two on Monday from 20:30 -22:00 GMT as well as Tuesday and Wednesday from 20:00 - 21:30 GMT.