Sean Quinn faces bankruptcy bid in Irish court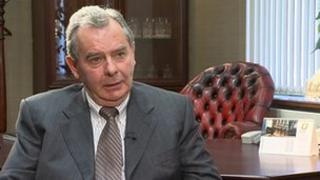 A Dublin court is due to hear an application by the former Anglo Irish Bank to have Fermanagh businessman Sean Quinn declared bankrupt.
If the bank succeeds, Mr Quinn, 65, could be declared insolvent in the Republic of Ireland which has a more onerous bankruptcy regime.
Last week, the bank succeeded in having Mr Quinn's bankruptcy status in Northern Ireland annulled.
Mr Quinn, once Ireland's richest man, lost control of his empire last year.
The bank, now called IBRC, appointed a receiver over a £2bn debt.
In the High Court in Northern Ireland last week, the IRBC argued that Mr Quinn was based in the Republic of Ireland.
Mr Justice Deeney found in favour of the bank, annulling the bankruptcy.
He found that a lease for an office in Derrylin, County Fermanagh, had been drawn up to "bolster" Mr Quinn's claim and that his centre of interest prior to bankruptcy was, in fact, in the Republic of Ireland between his home in County Cavan, offices in Belturbet and advisors' offices in Dublin.
The judge described the Derrylin lease as "a somewhat curious document".
Justice Deeny added: "I conclude, on the balance of probabilities, that this lease has been prepared at some much later date to try and bolster the case now being made."
He commented that Mr Quinn had failed to disclose the fact that he held an Irish passport and no UK passport, that he was a voter in the Republic of Ireland and that, despite being a UK taxpayer, 20% of his taxes were paid to the authorities in the Republic of Ireland.
Mr Justice Deeny stated that, taken together, these matters were material and ought to have been disclosed.
The bankruptcy period in Northern Ireland typically lasts for a year whereas in the Republic it is at least five years.
After the Belfast case, Mr Quinn said the case taken by the bank was "a sham".
"I'm 65 years of age and I've never worked a day of my life outside Northern Ireland," he said.
"I never did a day's work from southern Ireland in my life. I never done a day's work in my home. I never had any computers, I never had any IT system. Everything was always done from Derrylin."
He added: "What Anglo Irish has done to the Quinn Group is like somebody taking a sledgehammer to a child's toy - they've absolutely destroyed it."