Service to mark 20th anniversary of Teebane massacre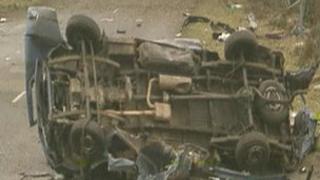 Twenty years after a bomb attack which killed eight men in County Tyrone, their families have said there are still too many unanswered questions.
The Protestant workmen died in January 1992 when the IRA blew up their minibus at Teebane crossroads, on the road between Omagh and Cookstown.
Another six were injured. The men's firm had been targeted as they carried out work for the security forces.
On Sunday, a short memorial service was held at the site of the bombing.
No-one has been convicted of the attack.
The men who died worked for Karl Construction. They had been returning from work at the Lisanelly Army Barracks.
Jean Caldwell, whose husband, Jimmy, was killed in the attack, said : "Today it's 20 years and standing here takes me right back. It's just like being at a funeral.
"And all weekend, it hasn't been out of my thoughts at all for me and my family.
"As soon as Christmas is over every year it's very much in your thoughts because you know the anniversary is approaching".
The Historical Enquiries Team has conducted an investigation into the attack and has provided a report to the families of the victims.
Whilst they welcome it, the families say a lot more work is needed before they could ever feel that justice has been done.
Among other things, the HET report revealed that bad weather on the day of the attack prevented the IRA from detonating the bomb as the men went to work, waiting instead until they were returning home.