Jim Gilchrist killer jailed again for probation breach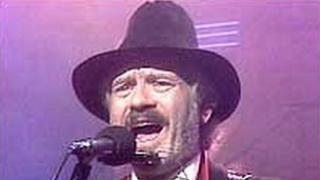 The man who admitted the manslaughter of Londonderry musician Jim Gilchrist has been jailed for 18 months for breaching his probation.
Daryl Quigley, 24, whose address was given as C/O a hostel in Cookstown, was originally sentenced to 10 years in jail for the killing.
Mr Gilchrist was killed in September 2005.
Derry Crown Court, sitting in Belfast, heard that Quigley had repeatedly breached the terms of his release.
Quigley was jailed for his part in the death of the 62-year-old father-of-five and grandfather who was found floating in the River Foyle after he was attacked on his way home from a meeting of a motorcycle club.
Two other Londonderry men were also jailed for the killing - 22-year-old Daniel Young, from Cornshell Fields, was also sentenced to 10 years for manslaughter and 24-year-old Anthony Fahy, from Northland Avenue, was jailed for life with a minimum tariff of at least 13 years after he pleaded guilty to murder.
Quigley had repeatedly breached the terms of his probation order both by missing appointments and also by breaking the rules of the hostel where he was staying.
Mr Justice Treacy told Quigley that although he could have jailed him for two years, he was making allowances for the fact that he had made some efforts towards completing the two-year probation order over a four-month period.
The judge revealed that last month, just a day after he had been in court for an alleged breach, staff at the hostel had reported that Quigley was intoxicated and when challenged had become verbally abusive, threatening one staff member "to go outside to box the head off you".
The court also heard that Quigley had committed a shoplifting offence while on probation, stealing a gift wrapper from Dunnes Stores for which he received a £75 fine in the Magistrates' Court.
Mr Justice Treacy said reports showed an "escalation in risk-taking behaviour".