Morrow questions private plane trip for Robert Black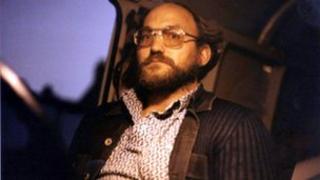 The DUP MLA, Lord Morrow has questioned why £5,675 was spent on a private plane to transport the serial child killer Robert Black to Northern Ireland for his trial.
Black was jailed for a minimum of 25 years in December for kidnapping and murdering schoolgirl Jennifer Cardy in 1981.
Prisoners are usually transferred to Northern Ireland by plane or boat.
Lord Morrow described the revelation as "shocking".
"Not only was the method of transport unnecessary, the cost for a short one-way flight was extortionate," he said.
"The justice minister has confirmed the normal way to transfer prisoners to and from jurisdictions is by standard plane or ferry."
Lord Morrow said there was "no justification whatsoever" in this expenditure.
"The cost was paid from the National Offender Management Service through the Ministry for Justice in Westminster but that in turn is funded by the tax-payer.
"The minister has also confirmed no other prisoner has been transferred in this manner in the past."
He said if there were concerns that Black could have been identified on a regular flight, then the Data Protection Act should have been invoked to ensure his details were not disclosed.
"I'm fairly sure he would not have been randomly placed beside other passengers and would no doubt have been accompanied by police and prison staff in plain clothes," he said.
'Appalled'
"He could have been seated with them in a rear row to avoid conspicuousness. Alternatively he could have been brought via car and ferry.
"Coupled with a £350,000 Legal Aid bill, which is set to climb further when the various counsel submit their full accounts, I am utterly appalled at the overt expenditure in this case."
Lord Morrow said he had submitted a number of additional questions to the justice minister to obtain a "concise breakdown" of the expenditure in the case.
"In addition I will be rigorously pursuing the issue, particularly who sanctioned this insulting Rolls Royce-treatment expenditure, through the House of Lords," he added.
In October, 64-year-old Black was found guilty of snatching Jennifer as she cycled to a friend's house in Ballinderry, County Antrim, in 1981.
Jennifer was nine years old when she disappeared.
Black, originally from Grangemouth in Scotland, is serving life in Maghaberry prison.
In November, Black's legal team said they would be appealing against his conviction for kidnapping and murdering the County Antrim schoolgirl.
Jennifer's murder was the fourth for which Black has been convicted.
In 1994, he was found guilty of three unsolved child murders in the 1980s - those of 11-year-old Susan Maxwell, from the Scottish Borders, five-year-old Caroline Hogg, from Edinburgh, and Sarah Harper, 10, from Morley, near Leeds.
Detectives in Devon are reviewing the evidence against Black in connection with the disappearance of another schoolgirl, Genette Tate.
The 13-year-old went missing while doing her paper round in a Devon village on 19 August 1978.